By Casey Leins, Staff Writer of U.S. World Report and News

The Centennial State is known for its hundreds of craft breweries and dozens of 'fourteeners.'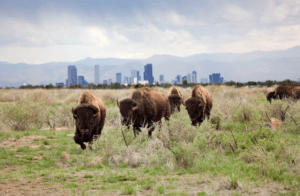 1. Colorado was nicknamed the Centennial State because it became the 38th state 100 years after the founding fathers signed the Declaration of Independence.
2. Denver is known as the "Mile High City" because it is exactly one mile above sea level.
4. Colorado ranked as the No. 5 state for the most breweries per capita in 2017, according to a Brewers Association report. The state has 8.4 breweries for every 100,000 adults age 21 and older. Colorado also had the third-highest number of craft breweries (348) in the U.S.
6. Out of the nation's 91 "fourteeners" (mountains with a peak over 14,000 feet), 56 are in Colorado. Additionally, three-quarters of the country's land area with an altitude over 10,000 feet is located in the Centennial State.
7. In 2012, Colorado and Washington became the first states to legalize marijuana for recreational use. Colorado shops made $1.51 billion in medical and recreational marijuana sales in 2017, and the state collected more than $247 million in revenue from taxes and fees.
8. The state attracted 84.7 million U.S.-based travelers and nearly 1 million international travelers in 2017, according to the Colorado Tourism Office. The tourists spend $20.9 billion and also generated nearly $1.3 billion in state and local tax revenue.
10. Colorado is the only state in history to turn down a chance to host the Olympic Games. The 1976 Winter Olympics were supposed to take place in Denver, but the state voted against hosting the competition, citing pollution, cost and other reasons.