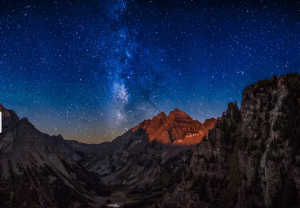 Here is a photo taken by Thomas O'Brien  of the Maroon Bells near Aspen, Co.
The Maroon Bells can be one of the most crowded and crazy places to try to take photos in Colorado. I think it carries the distinction of being the most photographed mountain in all of North America.
If you decide to go for sunrise photos during peak fall colors, you are met with bus loads of tourists snapping pictures from the lake. If peak colors fall on a weekend you need to get there an hour or more before sunrise just to get a position on the shore. Basically, its not a fun experience. Fortunately there is another way, and you get even better photos out of the trip. Go to the Maroon Bells at night for moonrise.  To read more….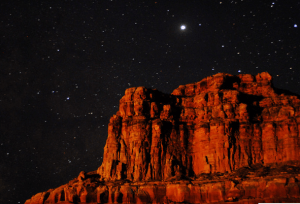 This photo was taken by Rachel Tobias
of Lake Powell near Page, Arizona. My uncle and I stood with my tripod on the lakeshore behind our houseboat, trying desperately to capture the massive red rock wall before us. It was one of my first lessons in night photography, and it wasn't going great: there just wasn't enough light despite the starry starry sky. I tried over and over, different shutter speeds, using spotlights, nothing worked…too dark. On my last try, I set the shutter speed to a few minutes, as the shutter opened, all of a sudden a houseboat from the next cove over set off fireworks. Their fireworks lit up the entire night sky, and shone their glorious light right on my rock face, resulting in this image.
For more amazing and beautiful night sky photos collected by: Adriana Yampey, AFAR Ambassador, please visit, Afar.com- Travel Magazine.