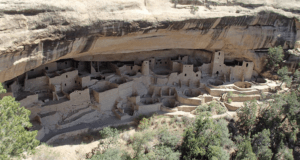 Venture into the Four Corners region of Colorado, Arizona, New Mexico, and Utah.

There is mystery and history galore in this part of the southwest.  I have visited these areas several times and always come away with a sense of awe and wondering how the Ancestral Puebloans even made it in this very dry area.  But, like today, there was climate change and they moved on.
The National Park Conservation Association (NPCA) is offering 3 different times to take this tour.
April 28-May 4, 2018
NPCA Trustees for the Parks Tour: October 13-21, 2018
October 29-November 4, 2018
Why Travel with NPCA?
NPCA and Off the Beaten Path have partnered together to offer you the best in small group educational national park travel.
They offer Expert Guides, are Environmentally Conscious, Excellent Value, supports NPCA'S Work—–>>>click here to to learn more about NPCA'S small group tour benefits.
NPCA's Travel Program was started in 1995 to create fun, in-depth, educational experiences for our members in our national parks. The program has remained successful year after year as we have consistently delivered high quality trips using the best guides, travel partners, and connections to our parks to offer you an engaged travel experience.
Check it out!  I know you and your family will not be disappointed.
 P.S.   I am not getting any commissions on this gig either.  Just want to share in the fun.