Welcome back to a lifestyle that anyone can appreciate and learn to love. The Northwest part of New Mexico is filled with many ancient sites and history of the way in which people managed to get over here and live.  Many trials and tribulations later, we have only to enjoy and speculate how their lives must have been.  These RV parks will take you back in time….
Northwest RV Parks and Campgrounds

For a more complete list of RV parks in this part of the state.
 Ruins Road RV Park – Close to Aztec National Monument. Pitch your tent on a thick blanket of bluegrass and sleep like a baby or picnic, fish or relax along the tranquil bank of the Las Animas River.
El  Morro RV Park and Campground  –  Full-hookup RV sites, capable of holding large rigs, feature 30 amp electric, water, and sewer on gravel pads. Roads throughout park are gravel. Large sites with juniper and pinon pine trees.  100% pet-friendly,  free range chickens, (turkeys, and a guinea hen too) that supply eggs to the restaurant.
Bandelier National Monument – The road to Bandelier takes you through some of the most spectacular country in New Mexico, offering enormous vistas of mountains, mesas, cliffs, and canyons. The monument

itself covers nearly 50 square miles, almost all of it undisturbed wilderness.  However, this park is plenty busy in the summer, so if you enjoy more peace and quiet, you might try after September.

Chaco Culture National Historical Park– One might think, near the end of 20 some miles of dirt road,that this site is too far off the beaten path. But, for anyone interested in architectural design or the history of prehistoric Indians, Chaco Canyon is a place to stimulate and revive the senses of time.  However, I recommend not visiting this park in July.  It can reach 3 digit temps! Lots of hiking trails to ruins, a wonderful visitor center with a museum with movies and other artifacts.  The night breeze is refreshing after a warm day and in the evening, the rangers open up the large telescope for night sky viewing.
Heron Lake State Park New Mexico – Located near the Continental Divide, Heron Lake is over 6,000 acres and is ideal for camping, hiking, fishing and sailing. The most agreeable weather is from May to October.  The first time I visited was with a group called WOW/kayaks.  Which stands for Wild Outdoor Women with Kayaks.  It was the 4th of July and even though the park was full, it didn't feel that way.  Lots of room for everyone.  Plus, El Vado lake is close by for more kayaking fun!
Ready to dive into this lifestyle? Living the RV Lifestyle is a dream for many people.
Not that long ago, most people waited to live out their dream until they retired, and had the time and the money to travel around the country. But now there is a growing trend among all ages to live more simply, and make the time to travel while they still have the energy and the desire – not postponing their RV dreams until a future date.
With more portable jobs and on-line businesses, people are taking to the road, and living a life with more freedom and flexibility. On the road, there are more solo travelers and even families who are giving their children the educational experience of a lifetime. Whatever your current living situation is, there are more options than ever to make the RV dream more affordable and more doable.
And so you don't get lost, it is important that you own a New Mexico Atlas and Gazetteer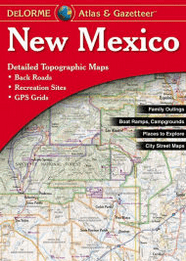 Come Vacation in New Mexico. There are things to do!