Jaunts Around Arizona, Colorado, New Mexico and Utah
Welcoming you to the colorful world of the American Southwest
The 4-corners area is steeped in magic, history, heritage, craft culture and of course, the great outdoors!
Become inspired by the pluck and courage of the men and women of the wild west!
Kids from 10 to a 100 years old will enjoy celebrating our diversity while discovering our history.
Our future is guided by our past.

One of these worthwhile experiences is just being in nature.  The calming effect of fresh air and beauty has a way of rubbing off. That is where the enchantment and fun of the southwest comes in.  If you enjoy learning about our complex, yet beautiful world, please peruse my blog posts for cool places to check out. I'll be sharing with you many of my own experiences around the four corners of  Arizona, Colorado, New Mexico and Utah.
Choose Your Next Adventure!
Moved more times than I care to admit. Managed to gather over 20 years of experience working in resorts and inns throughout the Southwest.
Five years of those years were spent living the RV lifestyle with my partner, Aaron. (May he rest in peace)
This website was created because of my many adventures.
Learning new things always keeps my mind sharp and clear.   Plus, the beauty and sanctity of the open country is a feeling to behold.  I hope you dive into the different states of my exploration.
Fun Facts: 
Love Kayaking, Hiking, Camping, Swimming, Hot-springs, Gardening, Biking, Snow-shoeing, as well as Jazzercise, Yoga, Photography, Visiting  Art Galleries, Fine Wine, Reading Mysteries or Self-help books.
The outdoors calls to me when I am seeking peace, clarification and beauty.
  "The West is the Best….get here and we'll do the rest." from Jim Morrison of the Doors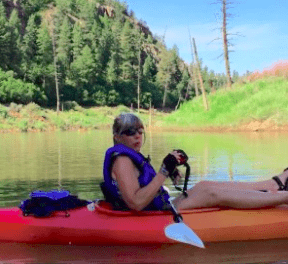 As far as a favorite day with you, It is hard to pick just one. I've had so many wonderful experiences with you. Amazing time viewing the bat caves at Orient Land Mine, the recycling event in Santa Fe, the concert on Fir mountain, and many more. I've had more laughs and fun with you than with anyone else!
Want some guidance in setting up short travel excursions? Let me help!