Hello and Welcome!
I invite you to join me as I journey through the four states of Arizona, Colorado, New Mexico and Utah.
The American southwest is very sacred and special to me.  I seem drawn to this part of the country and have derived so much pleasure in exploring the wilderness and serenity that always refreshes my Soul.  Whether it be kayaking, hiking, or attending other social functions, the four states as well as the four corners region is alive with tradition, culture, heritage, spirituality and other outdoor essences that opens vortexes of enlightenment.
I have traveled and lived in Arizona,(actually grew up in Tucson) Colorado, New Mexico and toured Utah many times.  Therefore, the time seems right to share my adventures, sights and sounds about these four mystical southwestern states.
This first post is about a favorite destination that helped me move through a rather disconcerting marriage and divorce more calmly.  Gates Pass in the Tucson, AZ valley has the qualities of a sacred site and the magic of nature at its best. This gateway overlooks the wilderness on the west and the city on the east. Many years ago, I visited this wilderness park often to reconnect with nature while watching the setting sun.   Another never to be forgotten moment was the celebration of my Father's life.  When he passed, my brother, Paul and I honored him by letting go of two dozen balloons from Gates Pass.    Below is a poem I wrote from my earlier visits.
                            A Breath of Fresh Air
The rain is coming
The air feels alive and crisp on the wintery day.
The wind seems much cooler now as it whistles through Gates Pass.
Trails leading down the mountain
Remind of snakes inching through grass
Clouds hover menacingly and strong
Awaiting one of nature's most beautiful gifts
A Sunset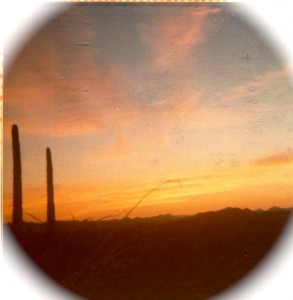 There is an explosion of colors,
Red, blues, and yellows make the scene,
As the sun makes a last attempt to shine her light,
The clouds burst free with a gentle rain.
Looking east, stretches a glitter of city lights,
While the west horizon is blanketed by clouds shaped like smiling faces,
as if softly whispering, Goodnight.
Directions to Gates Pass – Located in the Saguaro Wilderness of the Saguaro National Monument, west of Tucson on the south side of town.  Head west on Kinney Rd, pass the Old Tucson Movie Studio location and the Arizona-Sonora Desert Museum.  Follow Kinney Road till you meet with Gates pass road.   There is a section in the saddle of the mountain where you can stop and get out to hike a number of trails for better views of the countryside.
Has anyone else been to Gates Pass recently?
Please share any of your favorite sacred places in the southwest…..