There's always treasure to be found near rivers and this was no exception. Here's a short hot springs adventure that is not far from the town of Taos, New Mexico. The half mile hike down into the Rio Grande canyon is filled with large boulders which may require using the 3 point system of one hand on the boulder to move easily without falling. This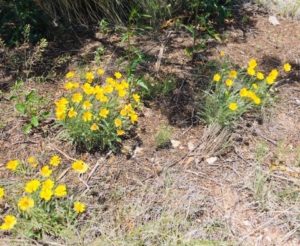 years abundance of moisture is making the landscape especially appealing as normally dormant wildflowers and cactus are starting to bloom.
Finding this outdoor hot springs turned into a challenge the day we ventured out because we had two sets of directions. Turns out we should have used mine first. Theresa was the co-pilot. It's a good thing that I was using my odometer because we passed the turn off to Tune Road. This wasn't really her fault as the road didn't have a sign on it. Locals have tried discouraging anyone turning onto Tune Road off of Highway 522. So much so, that they took off the Tune Road street sign. The first sign we came upon after turning onto this dirt road did discourage us from going any further and therefore we decided to turn around and drive over to B-007 (as the sign indicated) to get to the hot springs. Unfortunately, all we found was the John Dunn bridge going over the Rio Grande River. Manby hot springs was alluding us.
Again, we turned around, and drove back to Tune Road. Once on Tune road again, more signs let us know this wasn't the way to the hot springs. Neighbors probably have been bothered and I don't blame them. We followed the directions I have listed below and once you find the huge parking lot, you will see it is a popular destination. Just be mindful of the rough road going in. You can either park down a little ways or you'll need a 4-wheel drive to get to the parking lot that overlooks the Rio Grande River.
Once known as Stagecoach hot springs but are now called Manby hot springs. This location was a raucous resort, complete with bar, lodge and according to some, prostitutes. Beautiful canyon walls now grace both sides of these primitive hot springs.
The largest pool is a rock-lined tub at the edge of the river, several feet deep and several feet across and only holds about 6 people. This pool's temperature is about 98 degrees F. However, because it is so close to the river, it tends to get washed out periodically. A slightly warmer and smaller pool lies at the foot of the stagecoach station, provided it doesn't get washed out too.
Manby hot springs was first used and enjoyed by Native Americans. Then the Spanish Americans explorers, and then in the late 19th century, Americans began to exploit the area and built a road that would connect their toll road across the Rio Grande at Tres Piedras. The road had to be cut into switchbacks on both sides of the gorge. A stage line traversed the route and topped at the springs for years immediately prior to the rise of the automobile. You can still see some of the switchbacks across the river.
In 1906, Arthur Manby acquired this property and decided to put the hot springs to good use. The large stone bath house he built is only remnants today. This is closest to the hot springs. Unfortunately for Manby, the hot springs never became that popular and he never turned a profit. Sadly, he was found decapitated in his Taos home in 1929. Local legends states that Manby's ghost still roams the area. Following Manby's death, other entrepreneurs attempted to also make a profit with little success.
Mable Dodge Luhan, wrote a memoir called, Edge of Taos Desert, an Escape to Reality. She was a back east socialite that moved from New York to Taos in the early 1920's. She fell in love with a Taos Pueblo Indian and before building her home, rented part of Arthur Manby's huge home. Her story reveals the early days of Taos and Mable's depiction of Manby wasn't always congenial. He wasn't well liked and it is sad about his demise.
Therefore when you visit, you will still see ruins of the original resort. The most well defined is the stagecoach station itself. Plus, the view can't be beat. With the Mighty Rio Grande River in the background and the old stage coach road still visible on the opposite bank, it is still a hauntingly popular hangout. However, because the hot springs are so small, I would suggest visiting early in the day or during the week to be able to enjoy them and not have to wait your turn.
Directions:
From Taos, travel 4 miles north on New Mexico Highway 522 to a blinking light at the intersection with U.S. Highway 64. Turn left or west and drive about 4 miles to Tune Drive. Tune Drive is a grated dirt road and about a third of a mile past the airport on your left. The sign for Tune Road is no longer up, just watch your mileage instead. Follow this road for about 2.8 miles, where you bear left at a Y intersection and continue for 1.7 miles on a lesser maintained dirt road to a broad parking area overlooking the Rio Grande canyon. You will need 4-wheel drive for this road. Park here and on your left closest to the canyon is a narrow trail that descends to the river for about 1/2 mile. You will see the hot springs at the end of the trail at the river.