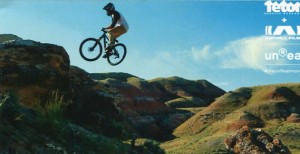 The Volunteers for Colorado organization have been working hard to get ready for a brand new area bike race to be held October 18, 2015.  This 12-hour Endurance Mountain Bike Race will held in Penitente Canyon on the west side of the San Luis Valley in Southern Colorado.
To get your juices flowing for this event, The Film, Unreal, a 4K mountain bike film will be shown on Monday, June 22, in Del
Norte, Co at the Knights of Columbus – Two buildings south of 3-Barrel Brewery.  Best of all- it is free and open to all ages!
Doors open at 7 pm, Show starts at 7:30 pm
Sponsors of this event- Kristi Mountain Sports, Volunteers for Colorado, High Valley Cyclists, Haefeli's Honey Farm, 3-Barrel Brewery, Del Norte Bank, Absolute Bikes, The Colorado Barkery, Saguache County and Rio Grande County.
For more information contact Sydney Schalit- Race Director
12hoursofpenitence@gmail.com or 719-221-5656