You are probably wondering what does Trash Trackers have to do with the Sept. 11th tragic event that occurred 17 years ago? And you are also probably wondering what are Trash Trackers?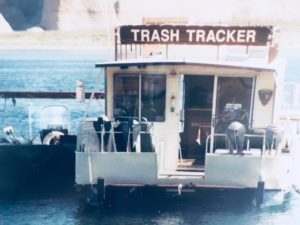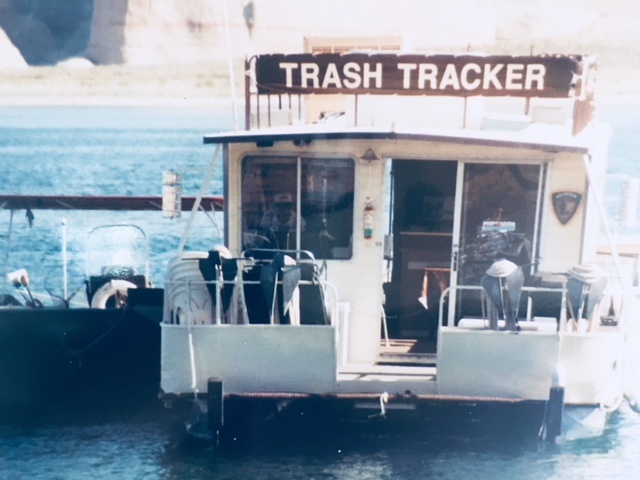 In 2001, I signed up for a working vacation with a crew of 8, (four men and four women), called the Trash Trackers, to help clean up Lake Powell. This is a volunteer opportunity that exists between the first of April and November. Since 1989, the United States Department of the Interior has offered five and three day trips aboard a houseboat on Lake Powell which is located in the Glen Canyon Dam Recreation Area outside of Page, Arizona. The lake is mostly in Utah, but starts in northern Arizona.
Everyone seems to have a story of where they were and what they were doing at the time of Sept. 11, 2001. This is my story.
You Will Lose Track Of Time
Launching the houseboat from the Wahweap Marina at Lake Powell, the eight of us were seated comfortably as we glided on the water the evening of 9/10. That evening we witnessed a remarkable sunset that I called the "Opening of the Heavens." Light fluffy clouds hung high in the sky and a muted rainbow of light sprayed down through the middle as if a window had opened. It was the most beautiful sunset I had seen in a long time and everyone agreed. Little did we know that the next day tragedy would strike. A fact that we didn't hear about till two days later because our captain had turned off all radio contact.
Being on the lake, felt like we were lost in time and that is what Kay Alderton, a twelve year veteran of Trash Trackers, says is the best part of this program.
Of course Kay Alderton, now 80 years young isn't typical. She is very much the outdoors person and is an avid hiker, kayaker and camper. "Every trip is different," Alderton says, "never go with expectations, go with an open mind and go with the flow. I have never had a bad trip."
All Kinds of Interesting Items Are Found
That year we were in a drought and the lake water was low. However, with low water there are more finds and and one year, Alderton's group found a whole speed boat with a large chunk of cement in the middle of it. "These circumstances did look suspicious," she said. That particular trip, her group also found a small aluminum fishing boat and tons of shattered boat pieces.
In my group, we found hundreds of miscellaneous cans, bottles, pieces of tarp, paper and golf balls.
On another trip Alderton says, "Captain John volunteered us to clean up this abandoned poorly built houseboat that could be seen from the air and was quite an eyesore. Even though it was only five to ten minutes away from the Wahweap Marina, the remains were a 1/4 mile up a gully. That project took us two full days to clean up. First, we had to disassemble the boat, then saw it in two and finally haul the huge pieces in wheel barrows to the barge. In one morning, we filled five barges."
Volunteers such as Alderton are motivated to keep coming back, year after year because of the feeling of accomplishment in such a picturesque area.  During the day the tangerine and beige sandstone rocks look like a tapestry.  In the evening while resting on top of the houseboat, the stars start quietly dancing around you.  In July, you may even catch a show of the Perseids meteor showers. Alderton says, "Doesn't feel like work at all" and I have to agree.
However, time is always made for fun and one day our group took off in the smaller motor boat to check out Rainbow Bridge. It is not uncommon for sudden summer storms to occur rather quickly in this area and we were not exempt that day either. Upon leaving, Mother Nature showered us, but good!
Nobody Goes Hungry!
The best part about working as a Trash Tracker is the food because you sure work up an appetite. Everyone is asked to bring one evening meal to share, while breakfast and lunch are up to the individual. Alderton suggests to not bring cheese in the middle of summer, " One year I brought a taco chicken casserole and it was so hot that the cheese melted in the bowl!"
However, there is much more to see and do in and around the lake. In the Carl Hayden Visitors Center at Glen Canyon Dam is a enormous scale model of Lake Powell that gives visitors an eagle's eye view of the elaborate network of canyons that is filled with Colorado River water to create Lake Powell's 1,960-mile shoreline. Rangers well-versed in the area's man-made and natural history give free tours through the 710-foot tall dam, a major source of electric power for both Arizona and neighboring states.
Antelope Canyon is only 5 minutes from Page, AZ. Located in the Navajo Nation, this awesome splendor is carved from rugged sandstone by millions of years of rain and wind. Natural spiral cathedrals have formed with an uplifting mysticism that words cannot fully describe.
And lastly, if you are headed back towards Arizona, as I was then, check out Gooseneck State Park. The San Juan River twists and turns flowing a distance of over six miles while advancing one and half miles west on its way to Lake Powell. Gaze at the results of 300 million years of geological activity, where the San Juan River winds and carves its way through the desert 1,000 feet below.
When we finally trolled into Halls Marina after our outing to Rainbow Bridge, we couldn't help but notice the many docked boats displaying the American flag at half mast. We knew something had happened. The concessionaire lady at the marina was aghast that we didn't know. Once we learned, one of the lady's in our group hurriedly ran to the nearby pay phone to call her son who lived in New York. Took 2 hours to get through, but she was able to finally speak with her son.  Of course, our moods changed for the rest of the trip. However, this was still an unforgettable trip and I highly recommend participating in this Trash Trackers opportunity if you feel called to do so.
Therefore, may we be forever grateful for the time we have with our loved ones and not take anything for granted. Because, in just one day, everything could change.
This is in honor of those who lost their lives that day and for those that put a lot of time and energy into saving others.
Please visit the 9/11 Memorial Museum.