Secrets to the Anasazi Culture are full of Mystery and History.

Every time I visit these ancient sites, I come away with a sense of awe and wonder how on earth the Ancestral Puebloans even made it in this very dry area.  But, like today, climate created changes and they moved on.
Imagine…..
Indians singing and dancing around a roaring campfire or planting seeds by the light of a full moon.
These visions and more were felt during my visit to Chaco Canyon National Historical Park, Canyon De Chelly (pronounced shay) National Monument, and Casa Malpais Archaeological Park. These established landmarks form a 700-mile triangle from northeastern Arizona into northwestern New Mexico and may have been part of a migration that has fascinated modern archaeologists for years. Presently, Canyon De Chelly is the only region where Native Americans still live and farm. Although, there are plenty of ruins still standing and a legacy of trails worth exploring in Chaco Canyon and Casa Malpais.
Chaco Canyon Holds Many Secrets to the Anasazi Culture
Chaco Canyon National Historical Park sits in Northwestern New Mexico and was designated as a World Heritage Site in 1987. According to archeological studies, 4,000 to 6,000 Hopi, Pueblo, Navajo, and other Indian tribes passed through this canyon. From 850 A.D. to 1150 A.D., the Anasazi lived within great houses often oriented to solar, lunar, and cardinal directions.
Anasazis Knew Their Astronomy
There seems to be an unending fascination about the Anasazi's and their use of sophisticated astronomical markers, water control devices, and Chacon "roads." At the Chaco Canyon visitor center, a video program is shown hourly about these ancient inhabitants as well as a small museum displaying artifacts, maps, and a small outdoor observatory.
Self Guided Tours Are Available to Explore Anasazi Ruins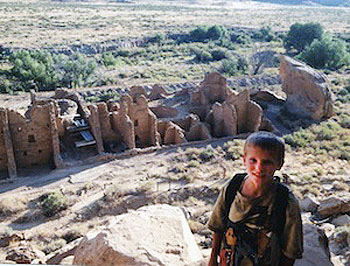 Overlooking Pueblo Bonita ruins in Chaco Canyon
Self-guided tours take you  to the Grand Pueblo Bonito, (Spanish for Beautiful Town) the largest Anasazi ruin, Casa Rinconado (Great Kiva), and Una Vida (another great house). For longer treks, there are at least a dozen trails leading to the top of the mesa for views of the entire Chaco Canyon network of ruins. Most are fairly easy with little elevation gain, the longest trail is a little over six miles. We chose the Pueblo Bonito Rim Overlook trail. After a steep 1.5-mile climb, the ruins of Pueblo Alto greeted us.  A setting sun shadow danced across the canyon walls.
Canyon De Chelly National Monument
Shadows weren't dancing across the canyon walls as my girlfriend and I hiked down an easy 1.5-mile trail to White House Ruin on the floor of Canyon de Chelly. This canyon remains green and fertile year-round, which explains why it is one of the longest continuously inhabited landscapes in North America. Today, White House Ruin sits behind a chain-link fence on the valley floor adjacent to the canyon walls. The valley floor was warm that day and cottonwood trees were just beginning to leaf out giving us a little reprieve from the sun. Indian vendors jumped back and forth across the narrow muddy river in hopes of selling their wares to incoming tourists.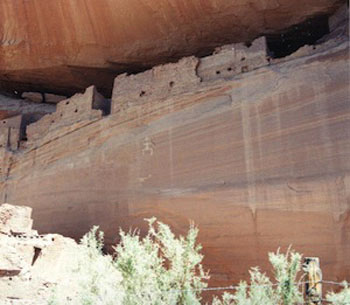 White House Ruins
Canyon De Chelly National Monument resides in Northeast Arizona and is west of Chaco Canyon. Numerous overlooks of the canyon are accessible by driving a two-lane road that meanders along the rim. My favorite overlook was Spider Rock. Today, only two tall spires of red sandstone stand alone in the middle of the valley floor depicting Spider Woman's home where she helped her People move into the fourth world by hiding them in the reeds and then floating them down to dry land.
Hopi Legends About the Anasazis
According to Hopi legends, many generations may have migrated through these areas in a succession of underworlds. This succession of underworlds according to Frank Waters, author of "The Hopi Way" lasted five worlds. The First World called "Endless Space" started out as a pure and happy time. Unfortunately, conflict surfaced because the People forgot who they were.
Ultimately this world was destroyed by fire. The faithful were protected underground in kivas with the ant people. The kivas of today represent those anthills and were often located within the great plazas of the great houses of all these canyons. Kivas accommodated hundreds of people and served as ritual settings for entire communities. Often times while retreating in the kivas, communication between other worlds opened up for the People, according to Greg Braden, author of "Walking Between the Worlds."
The Second World was called Dark Midnight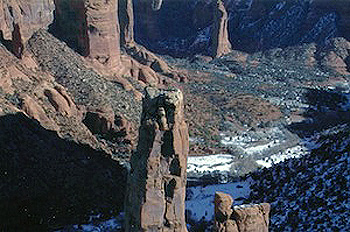 Spider Rock
The Second World according to Waters was called "Dark Midnight" and was destroyed by cold and ice. Again, the kivas kept them warm and dry. Once the destruction stopped, they climbed up a ladder into another world. This was the Third World. Dissension broke out quickly among the People and this world was destroyed by flooding. However, this time an appointed caretaker named Spider-Woman saved the ancients by hiding them in reeds and floating them to dry land into the Fourth World.
The Fourth World is called "World Complete"
The Fourth World, according to Waters, was called "World Complete." This world was unlike the previous three, where the ancestors were provided for. The Fourth World had harsh deserts, never-ending marshes, and mountains of violent weather. This World was to be a time of awakening, realizing how we affect each other and that we are all one. Sounds like what might be happening now, doesn't it? The Hopi say we are now living in the Fourth world which is ending and that the Fifth World is beginning.
Casa Malpais Archaeological Park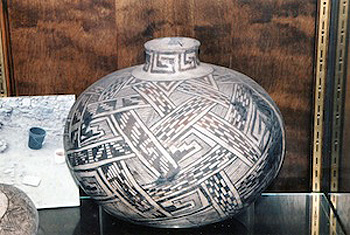 Native American pottery
Further south of Canyon De Chelly lies Casa Malpais Archaeological Park. This National Historic Landmark also has evidence of underworld activity within the ruins. Intact pottery was discovered here as well as an 8 X 4-foot panel depicting human-like figures with tails that may have represented ancestral beings before they emerged above ground to the fourth world.
These petroglyphs offer an inkling about the  Zuni and Hopi clans that lived and held ceremonies here six hundred years ago. Archeologists  propose these drawings came from the Parrot Clans because there is a parrot spitting rainwater onto a corn plant. According to Hopi legends, this also indicates that the Corn Clan and Parrot  Clan went their separate ways. Below the corn plant is another human-like figure which  represents a female because of the hair spools on each side of the head. According to legends,  this means she is single and still waiting for her man. At the time of this drawing, 20,000 Hopi,  Zuni, Navajo, and Mogollon (pronounced muggy-own) traveled through this settlement. I hope she found her man!
Even though a large number of travelers passed through, the migration seems to have ended here. The Anasazi people appeared to be so in tune with their environment, yet they completely vanished. 
About a mile away in the town of Springerville, AZ, is a small museum that displays many of the intact relics of pottery.
Answers May be in the Stars About the Ancient Anasazis

Perhaps answers can be found within the stars. In the early evening at Chaco Canyon,  park rangers open up the observatory. Summer evenings are pleasant here as a warm gentle breeze sweeps the desert floor with the fragrance of sweet pinion and sage. A waning moon allows the Big Dipper, Little Dipper, Cassiopeia, and Milky Way to shine more brightly.
My girlfriend remarks quietly, "Looking up into the night sky of more than a thousand stars, it's as if we are looking back in time." I have to agree and wonder how it must have been for our ancestors. I have a feeling that some of these same questions may always elude us. We need to listen better with our hearts, balance our lives while still lending an ear to the sounds of ancient drumming or the distant howl of a coyote.
If You Go:
♦ Chaco Canyon National Historical Park– The best time to go is in the spring or fall unless you can tolerate temperature above 100 F in July and August. Chaco Canyon is located at the end of a long unpaved bumpy dirt road in Northwestern New Mexico. Accessibility is best by car coming in from the north at the town of Nageezi, New Mexico via County Road 7900. From the south, you can also take County Road 7900, (turn north at the town of Pueblo Pintado). In either direction, you will come to the junction of County Road 7950, which will take you west into the canyon. Be aware that these roads can be inaccessible in inclement weather. For more info, call (505) 786-7014 or visit www.nps.gov/chcu/index.htm.
♦ Canyon De Chelly National Monument – Located not far from the town ohinle, Arizona. Campsites are free and available on a first-come-first-serve basis and the historic Thunderbird Lodge is also close by that offers a gift shop, restaurant, and rug room. For more info call (928) 674-5500.
♦ Casa Malpais Archaeological Park– Open year-round. Tours of the site leave from the museum located in Springerville, Arizona at 318 E. Main Street. For more info call (928) 333-5375.
You May Also Enjoy:
Canyoneering In Arizona's Best Kept Secret
The Wild West Began with Zebulon Pike