Take time for yourself to enjoy what I 

like to call

"Toddy for the Body" at Joyful 

Journey's Hot Springs and Spa. 
Joyful Journey is a remotely located at the northern gateway of the San Luis Valley in southern Colorado.  Native Americans claim these pools are "Where Healing Waters Flow" or as I call this delicious experience, "Toddy for the Body".  There are three pools that range in temperature from 100, 110 and 108 degrees with a magnificent view of the Sangre de Cristo mountains.
 Many Amenities Available for Your Soaking Pleasure
Massages and other body treatments are offered in the spa.  Furthermore, each treatment room has their own view of the mountains as well. They aren't anything fancy, but clean and well lit.  There are two treatment rooms at the east end of the lodging and two more in the main building. The motel treatment rooms have their own bathrooms, while the rooms inside the main building do not.  However, the bathroom is just across the hall with
plenty of lockers and changing space. The bathroom is actually larger than the lounge area. And this could be a drawback as the only lounging area is near the front desk.  Semi comfortable chairs are provided, however, this isn't exactly conducive to curling up with a book after your soak and massage.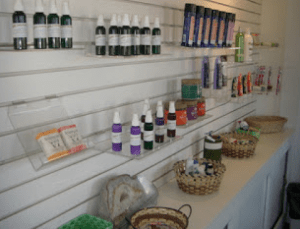 Lots of massage and soaking amenities
Located near the front desk are shelves with bottled water, snacks and an assortment of organic creams, lotions, soy candles, soaps and essential oils for sale from San Luis Valley locals. Further down the hall, is a sauna and then you are out into the hot springs pool area. And was I ever ready for that hot water!
Upon check-in, bottled water, a towel and a robe were ready for me as I walked out in the early crisp December morning and choose the hottest tub first.  Sinking slowly down into the warm water felt divine and peaceful.
Thirty minutes later, the front desk clerk walks out to me and says, "It's magic time."
Magic Time
My massage therapist escorted me to a room at the end of the motel.  I chose a hot stone massage which is known for penetrating tense muscles that are extremely tight or stiff.  The warmed basalt stones were placed on parts of my back to maximize the therapeutic benefit and aid in the extra relaxation needed in releasing tension and easing sore muscles. Stones used are typically river rocks or other very smooth-surfaced stones. The high iron content in basalt helps the stones retain heat during the massage. Eighty minutes later, anxiousness evaporated, muscles relaxed and ready for a nap, I sauntered back into the hot springs pools area for another hour.  Ahhh, the pause that refreshes.
You might also enjoy:
 Available Lodging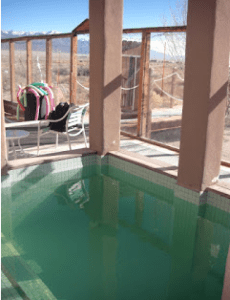 Tower pool- 2nd hottest
If you decide to stay the night, there are 12 motel rooms, 6 yurts, 3 teepees, RV hookups and camping sites available.  Lodging guests get 10% off any massage or spa treatment and served a continental breakfast.  However, this is the only warm food offered as there isn't a restaurant on the grounds.  If you come for the day, be prepared to bring your own food.  I did bring a snack but it wasn't enough and that was the only reason I decided to leave. I was hungry!
The owner, Elaine Bloumenhein's motto is "Come for a relaxing healing time and you will be better than when you came in"  and that is exactly how I felt!